Identifying Authorized Treatment Clinics in Malaysia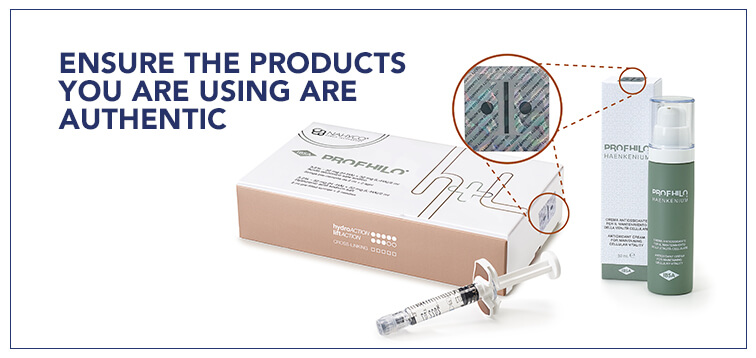 It has been brought to our attention that globally, there have been reports of counterfeit and unauthorised sources of Profhilo® that are illegally acquired. Using these products could lead to health risks and complications.
We cannot confirm the formulation, quality, storage and handling of these unauthorised sources follow our quality standards. Therefore, it is important to seek treatment only from authorised treatment providers listed here. Should you be unsure about the treatment provider, you can contact us to enquire.
How do I identify if the products are genuine?
Counterfeiters are highly skilled at replicating products. It can be almost impossible to distinguish real from fake. For the Profhilo® products sold in Malaysia, you have to look out for the authenticity sticker and ensure the serial number is tamper-free.
With the sticker, it means that the source of Profhilo® is authentic and it is delivered via pharmaceutical cold chain logistics, ensuring product integrity and safety. Profhilo® medical device must be stored within a range of low temperature at all times, thus it is important to request to see the authenticity sticker before receiving the treatment.
Caution: Unauthorised treatment providers
Receiving Profhilo® treatment using unauthorised sources could lead to health risk and complications. Receive treatment only from authorised treatment providers.
If you suspect any unauthorised treatment provider and wish to inform us about it, please contact us at enquiry@profhilo.com.my
Others stories you may Like