How To Achieve an Instant Holiday Glow According to Aesthetic Physician Dr Kee Yong Seng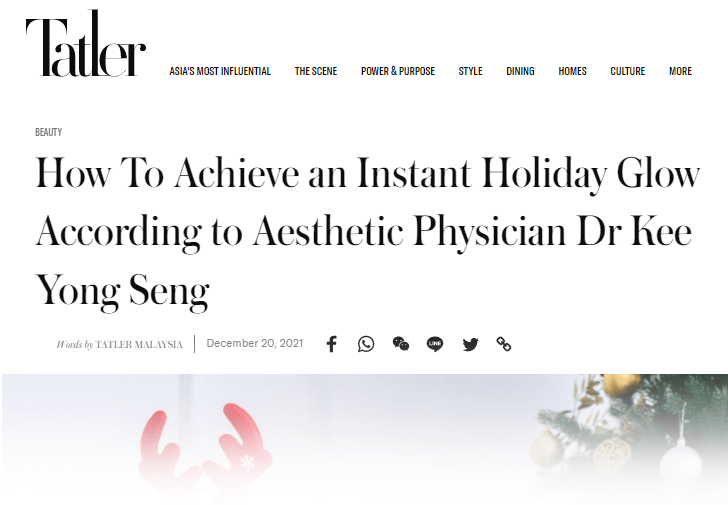 It's time to get glowing for the holidays with Profhilo, one of Malaysia's hottest injectable treatments
Since arriving on Malaysian shores in March 2020, Profhilo has been the go-to for those struggling with skin laxity, including wrinkles and sagging skin, as well as other signs of ageing. Hailed by practitioners as "the most exciting development in injectable treatments in a long time", Profhilo offers first-of-its-kind injectable skincare formulated with 100 per cent pure hyaluronic acid to reinvigorate the bio-stimulation of collagen, elastin, and adipocytes stem cells, of which the natural production by the body slows down with age. 
If the last year of stress and uncertainty, pandemic-related or otherwise, has taken a toll on your complexion, an appointment at the aesthetician trained to administer Profhilo's revolutionary bio-remodelling treatment is just the thing you need to revive and rejuvenate your skin from inside out—right in time for the holiday parties and to ring in the new year!
We sit down with Dr Kee Yong Seng to uncover the secret behind Profhilo's status as the leading choice for people in Malaysia and around the world looking for supple, firmer, hydrated and more youthful skin.
A veteran aesthetician, Dr Kee was among the first batch of licensed and KKM-approved physicians who built the industry more than 20 years ago. He is currently the medical director of Premier Clinic and is active in training other doctors in Malaysia to perform medical aesthetic procedures, including Ultherapy, Radiesse fillers, and other skin lifting procedures. 
How does Profhilo stand out from other injectable treatments, such as skin boosters or fillers?
Profhilo belongs to a category known as bio-remodelling which differs from sculpting or volumising fillers or skin boosters that provide only a temporary boost of hydration.
And unlike other injectable treatments in the market, Profhilo requires just five injection points on each side of the face. Because of this, I find it easy to convince my patients, especially those who are still new to medical aesthetic treatments.
Why is hyaluronic acid important for the skin and how does Profhilo maximise its benefits? 
Hyaluronic acid (HA) has been widely used in skincare to help with hydration and skin suppleness. But Profhilo is the first of its kind in that it has the highest concentration of HA in the market. Its formulation with patented NAHYCO is unique in helping it diffuse into the skin better, improving overall skin quality, laxity and hydration.
While most treatments only target a certain skin layer, treatments that have better and lasting effects are those that target all 3 layers: epidermal, dermal and fat layer. Profhilo is an example of such treatment to maximise its results.
Would you recommend Profhilo for those who are new to injectable treatments?
The treatment is over within minutes and the pain levels reported by most patients are low or negligible. Profhilo is administered via the bio-aesthetic points (BAP) technique, requiring just 10 injection points for the whole face or neck.
The feedback I often get from my patients is that the treatment is quick, comfortable and delivers excellent results. Most absolutely love the tightening and glowing effects achieved with Profhilo.
How long is the downtime?
Profhilo leaves behind small blebs, similar to small mosquito bites that go away within 1-2 days. It's usually just the tiny red marks left behind at the injection points that take slightly longer.
Do you have any rules or advice when it comes to aftercare?
For aftercare, I would highly recommend my patients to apply hydrating topical creams. While Profhilo treats the skin from within, basic hydration treatment from the outside is just as important. And a sunscreen with SPF 50++ is a must!
What are the most important things to remember when it comes to injectable treatments?
Make sure that your product is registered and approved by the FDA to ensure that it is safe to use. Products like Profhilo require specific cold-chain logistics during its transit from Italy all the way to Malaysia to ensure product integrity, efficacy, and safety. One way of verifying the authenticity is to spot and scan the Neoasia QR sticker on any Profhilo products.
Have your treatments done by medical doctors with proper qualifications. Nowadays, there are many salons and beauty centres posing as doctors to offer medical aesthetic treatments. If they are not registered with KKM, it is likely that they are untrained and unequipped to handle such treatments or resolve any adverse side effects should they arise.
The best results are always the most natural-looking. You don't want to look too plastic or too superficial. Experienced, qualified doctors would be able to identify your needs and deliver you the best results.
Check out the full list of authorised treatment providers on Profhilo Malaysia's website here.
Full article read here: https://www.tatlerasia.com/style/beauty/profhilo-beauty-treatment-hyaluronic-acid
Others stories you may Like